ALTERNATIVE CARDS, WALL ART & WEDDING DESIGN
Alternative, Gothic and Rock 'n' Roll designs to add some edgy style to your life.
Originally hand drawn and painted by Rae Henry, then scanned and digitally edited and printed.
As a small independent business I'm able to give a personal service, putting care and attention to detail into each and every order. 
About Rae
I love all things gothic & alternative and that's what
inspires me to create something a bit different from the norm.
After graduating in 2012, I worked in graphic design for a number of years creating logos, book covers, album art for bands etc. I've always made my own cards for family and friends because it was difficult to find alternative designs in the shops. It was great to take this full time and break away from more mainstream design to create things that are my style with plenty of skulls, bats and a gothic twist. 
Qualification
BA Hons Illustration
Batchelor of Arts Degree in Illustration

2012
GREETINGS CARDS & WALL ART
I love designing unique and alternative greetings cards and still get a buzz to think of people opening a card on their birthday that they'll love- that's really their style and that will make them feel special on the day. 
I'm really into gothic home décor and interior styling so I've designed a growing range of prints to help you decorate your tomb sweet tomb.
Your home should be an expression of your personality and wall art is a simple way to add a big impact to a room. I believe that dressing your walls with art that reflects you, will help you leave the pressures of the mainstream behind when you get home and create a sanctuary that celebrates your unique style.
Follow my art account on Instagram:
To see my latest designs, plus tips and inspiration for alternative and gothic home décor.
ALTERNATIVE WEDDING DESIGN
In a market saturated with mainstream wedding design, I wanted to create something for the alternative sub-cultures. For the misfits, the goths, the rockers. If you live an alternative lifestyle, why settle for a normal wedding?

My products are not only made to be practical but also bring the wow factor, expressing your style and making your day wedding unique.

I've had the pleasure of working with hundreds of cool couples who rock their alternative style on their big day. It's a really amazing feeling to see my creations used and enjoyed at real weddings, on one of the most important and anticipated day of peoples lives.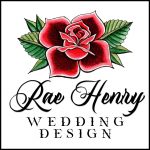 Follow my Wedding Design account on Instagram:
To see my latest designs, plus tips and inspiration for alternative wedding decoration, table settings and styling.
AS FEATURED ON...
Check out some of the blogs and articles that have featured my wedding designs:
TESTIMONIALS
"It's so hard to find quirky alternative cards, so I was very happy to discover RaeHenryDesigns. A great design and good quality."
MARTIN
West Yorkshire
"bloody stunning print!! such a beautiful piece to have on any wall etc. super happy with my order and will definitely be purchasing more!!"
Coleen
Norfolk
"Thank you so much for our wedding stationary. It matched our theme perfectly and everyone commented on how perfect they were xxxx"
PIP
Newcastle Upon Tyne
"I have just received my wedding stationary and I am so pleased and amazed at the quality of the work. Even the packing of the items was professional. Will definitely recommend to anyone I can"
KRISTINA
London
"Fantastic quality and service. Rae was so helpful and made our wedding really unique! "
Louise
London
"Great card, such a unique design. It was shipped quickly, was beautifully made and very well received, Thank you."
EMMA
Bristol
"This card is a beautifully done, pop up card. I bought 3 and I'm very pleased with them, plus they arrived quickly. Thank you."
TANYA
London