GOTHIC SUGAR SKULL WEDDING STATIONERY
Gothic Sugar Skulls wedding stationery in black and purple with gothic swirl details.
Perfect for an alternative couple looking for something different for a gothic or Halloween style wedding.
Available as Save The Dates, Day and Evening Invitations, RSVP cards, Guest Information cards.
Mix and match the items you need, all the cards are flat A6 size designed to be stacked together in the envelope.
Save The Dates
Once you've finally set a date for your big day, it's time to let friends and family know and make sure they reserve the date for your wedding.  
This first piece of wedding stationery will give a hint at the style you've chosen for your wedding. A decorative card guests can put on their fridge or memo board.
Wedding Day Invitations
The gothic sugar skull wedding stationery can be personalised to make it uniquely yours. Having all the details printed on your invitations will save you time while looking clear and professional.
The pictures show example text, but all the wording can be personalised with the details for your big day
Day Invitation details usually include the names of the couple getting married, the wedding date, time of the ceremony, ceremony venue and address. If the wedding reception will be at a different location, this address should also be included.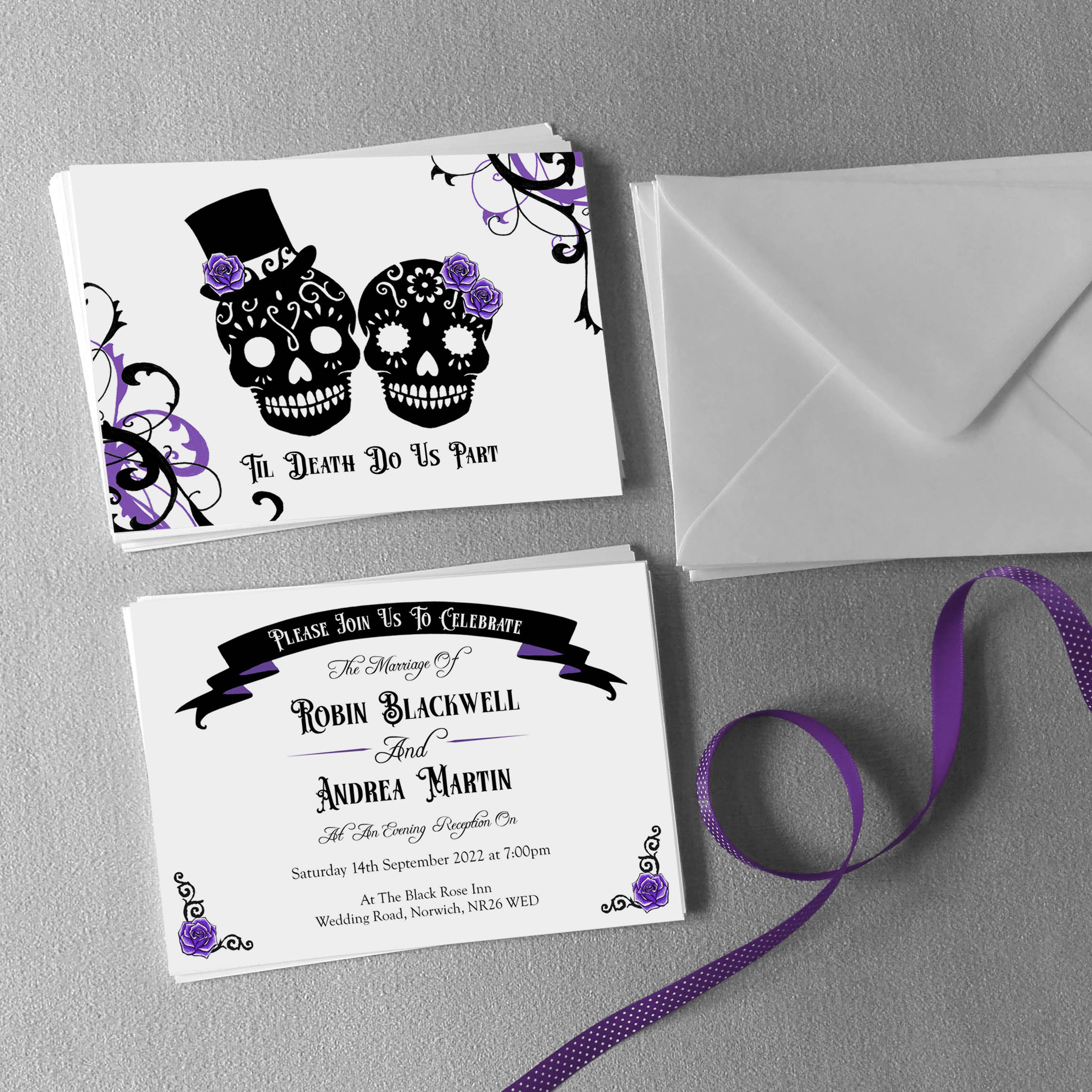 Evening Invitations
Use evening invitations to invite certain guests to join you for the wedding reception party rather than the whole day. Many people choose to invite their closest friends and family to the ceremony and wedding breakfast, then extra guests to join the celebration afterwards.
Details usually include the names of the couple getting married, the wedding date, time of the reception, venue and address. RSVP details can also be included or you can send a separate RSVP card.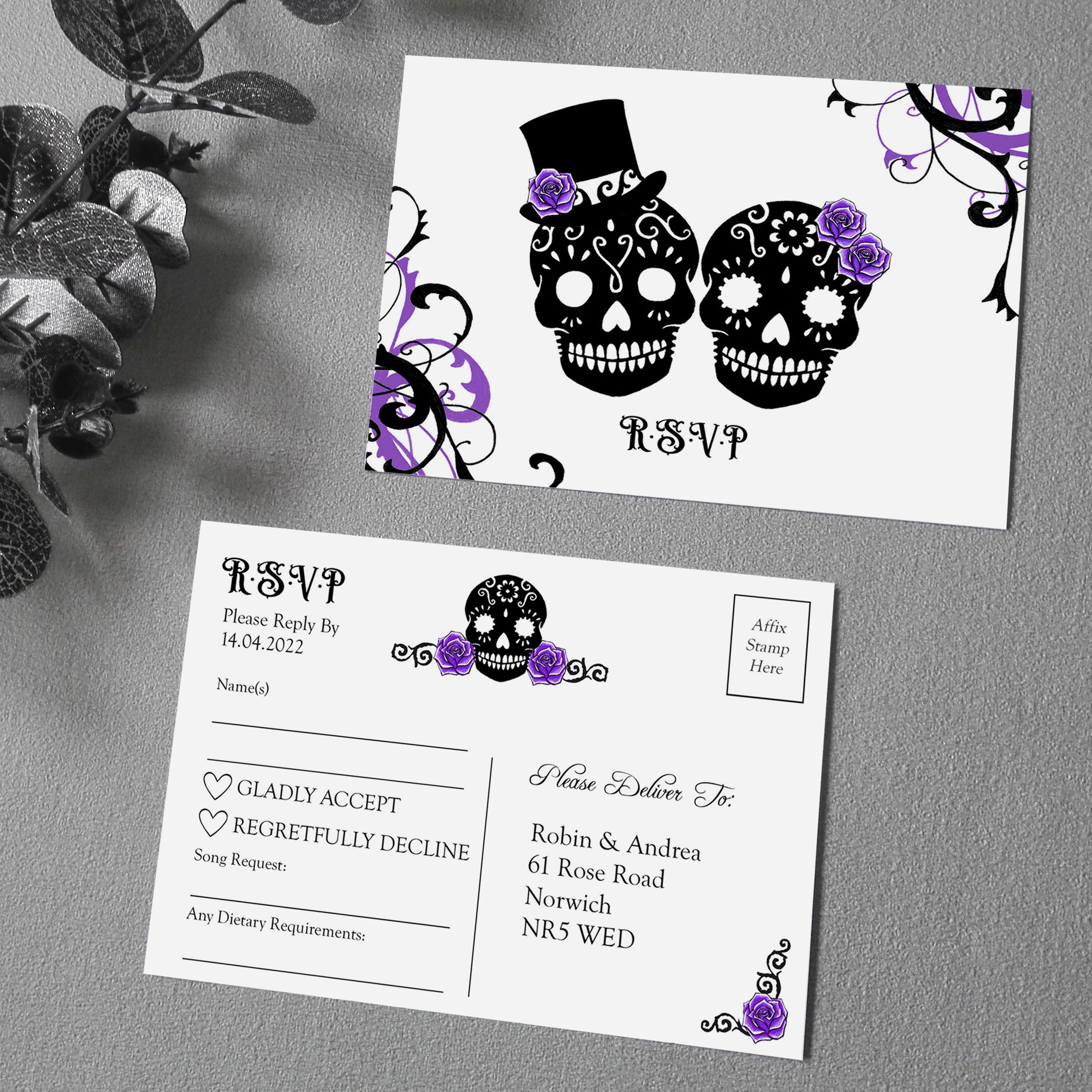 RSVP Cards
The postcard style RSVPs can be printed with your address and include a space for guests to affix a stamp and post their response back to you, without the need for an envelope. The wording can be tailored to suit your needs with optional lines for 'song request' and 'dietary requirement' and so on.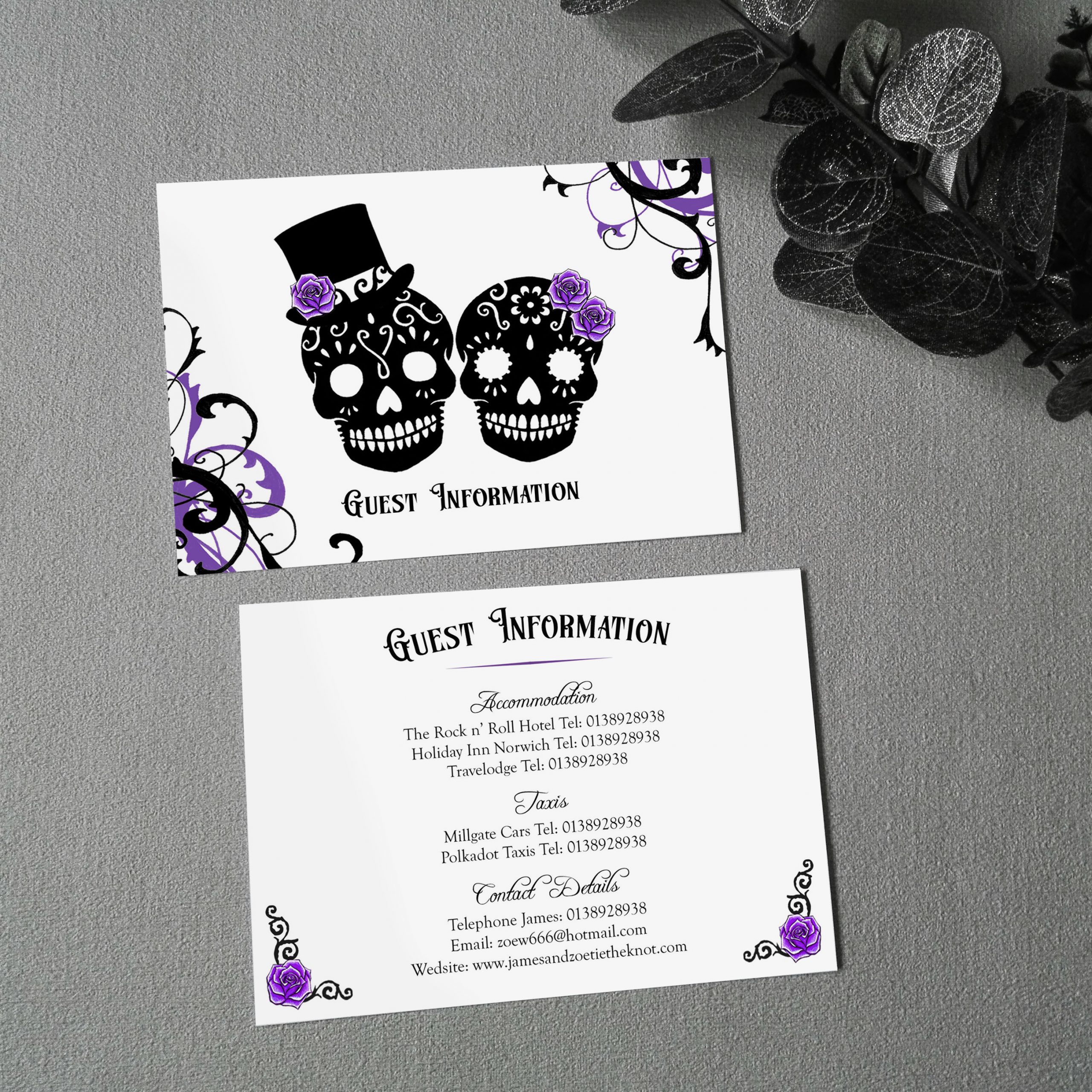 Guest Information Cards
Supply any additional details in advance of the big day. An extra card that can be included with the sugar skull
wedding invitation, featuring your choice of information such as:
Directions To The Venue
Parking Details
Your Contact Information
Local Accommodation
Local Taxi  Numbers
Wedding Itinerary/ Schedule For The Day
Dress Code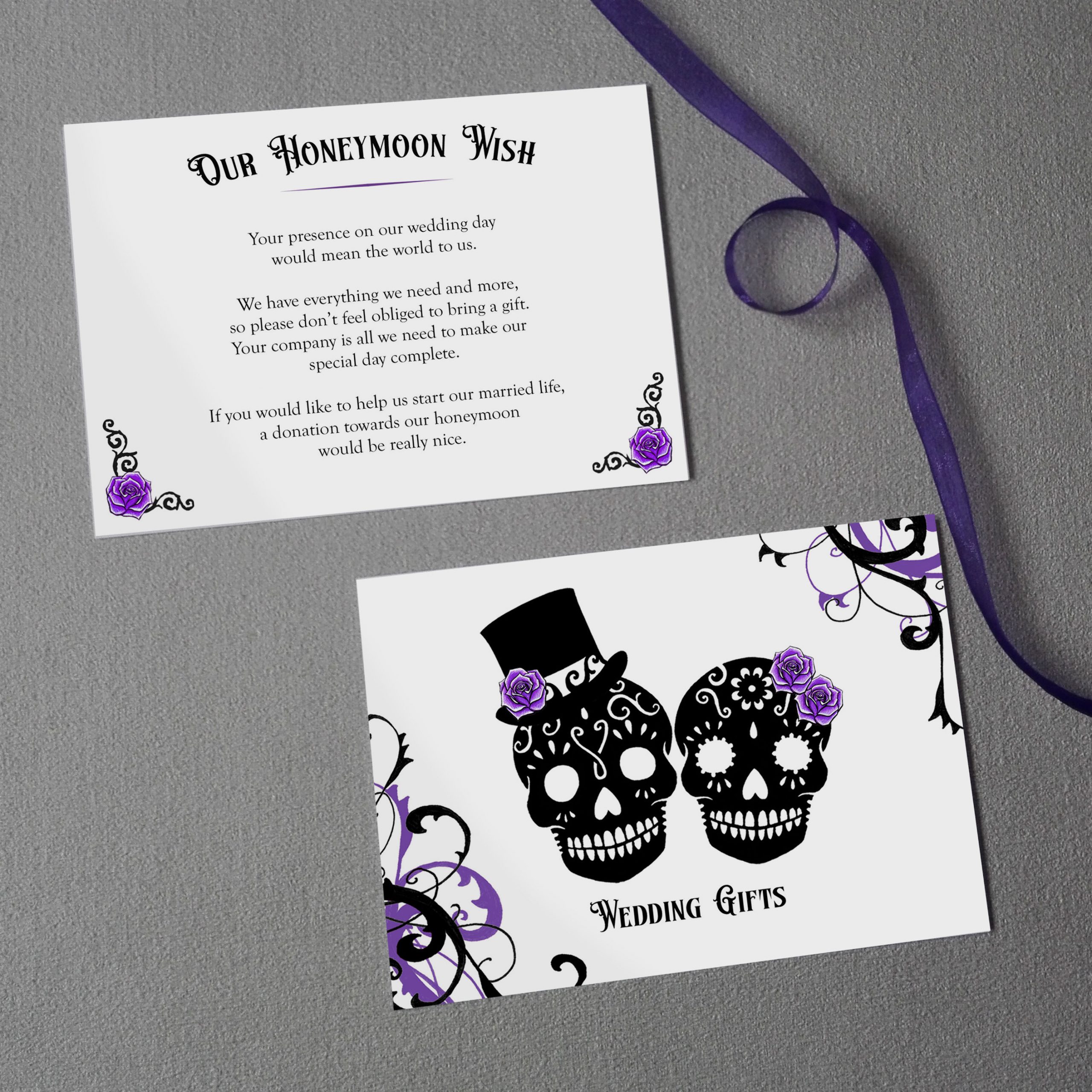 Gifts/ Honeymoon Cards
Your guests will want to give you a gift for your wedding day, which can lead to awkward questions about what you would like or a heap of presents you don't want or need.
Including a note on gifts with your sugar skull wedding invitation will make take the hassle out of the process for you and your guests.
Printed with your chosen text or wedding money poem, they will be personal and tailored to you.
Title examples: 'A Note On Gifts' 'Our Honeymoon Wish' 'Wishing Well' 'Wedding Gift List'
Use these cards to:
Politely request a gift of cash/ donation to your honeymoon fund.
Suggest a donation to a chosen charity instead of a gift.
Supply information about a traditional wedding gift list where guests can buy gifts of your choice.
PRICES
Save The Date  £1.60 each
Day Invitation  £1.70 each
Evening Invitation  £1.70 each
RSVP Postcard  £1.50 each
Guest Information Card  £1.50 each
Honeymoon/ Gifts Card  £1.50 each
Free Delivery
DETAILS
Minimum Order Quantity Per Item: 25
Fully Customizable Wording
Digital Proofs Included
Size: A6 (10.5cm x 14.8cm)
Double Sided Print
Premium Uncoated Card
White Envelopes Included With Invitations & Save the Dates
1. Request A Quote
To place your order, please email raehenry@hotmail.co.uk
Let me know:
- The collection you are interested in.
- Which items you would like to order.
- And the quantity of each item.
- Your postal code.
I can then give you a full quote,
payment can be made via direct bank transfer or a PayPal invoice.
2. Personalisation
Once your order is placed, please supply the personalised information for your wedding stationery.
You will receive free digital proofs via email for your approval before printing goes ahead to ensure that you are 100% happy with the design.
Contact Info.
3. Printing & Delivery
After the final design has been approved, your stationery will be professionally
printed and carefully packaged for safe transit.
An email notification will let you know when your order is ready for dispatch.
Delivery typically takes between 3-5 working days.